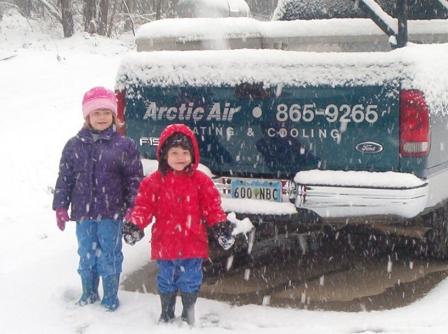 Built on decades of professional service, we at Arctic Air Heating & Cooling, Inc. know what it means to treat our customers with professionalism and respect.
Unlike other service companies, we set appointment times within a 30 minute window. When we say we'll be there between 11:30 am and noon, you can set your clock by it. We don't believe in giving you a four hour window of time to sit at home waiting around for us to show up.
As Arctic Air Heating & Cooling, Inc. is a family owned and operated business, we know what it's like trying to take care of and provide for our families. We understand that you always want what's best for them because that's what we would want for our own family. We also recognize that you're not working with an unlimited budget. Our goal is to provide you with the best value for your hard-earned dollars. We provide good quality, reliable products and work at the best price we can. We may not always be the cheapest in town -- and we certainly aren't the most expensive -- but you can believe that when we finish a job, you've got a heating and cooling system that will keep your family -- and your wallet -- comfortable.
When we say we're "fair," we don't just mean our prices. We mean our practices, too. There are a lot of service companies out there that will try to pressure you into changing a part, be it on a car or an air conditioner, just because it's got a few years on it. It may be working just fine, but they want to replace it with a new part on the off chance that it might fail at some point in the future. Well, we do things a little differently. We'll let you know if we see an old part that could cause potential problems in the future. If you want us to replace it, we will. But if you don't feel comfortable with changing it out right then, we certainly won't pressure you into it. We want your system to operate until it's not economical anymore. We're not here to take advantage of anyone.
We realize we can't please everyone, but we sure do try.
Fast, Friendly, Fair. It's Time To Call Arctic Air!